The homie JustPlainAnt has steadily been building a better world beat by beat. I met this cat a few years back and everytime i build with him he got some new sounds to ride to,to commemorate his latest release Songs About Something,  here's a little innerview conducted over Aim.


ohbliv 
    ight
    so i don't want to be too cliche so imma post this as just a conversation more or less but first off lets get the details of who you are and what you do out of the way

JustPlainAntRVA 
    I'm Just Plain Ant and I'm a lover of music. I make a few tracks here and there, too.

ohbliv 
    word, how long have you been making "a few tracks here and there"?

JustPlainAntRVA 
    i started off writing songs back when i was about 15 or 16 and then I decided that production was something i wanted to try when i was 17. i found that that was something i loved and wanted to stick with and have been doing it ever since.

ohbliv 
    word, and what's your inspiration for your production?

JustPlainAntRVA 
    basically my inspiration for music is just life. i feel like music lets me express how i feel and help others to do the same. also, it's just a passion. im not the type of dude who could just see himself workin a desk job and gettin mad when his stapler doesnt work right. music is what i would prefer to do with my life
    and whie its no guarantee that i can do so, what hurt is it doing to at least try.

ohbliv 
    very true, you can't succeed if you don't even try. 

ohbliv 
    Now i remember your first serious release which was Fly, which to me is one of the most solid indie rva hip hop albums i've heard in a while, to now where you're at, you've made leaps and bounds with styles. Tell me what goes through your mind when you sit down to make a beat.

JustPlainAntRVA 
    well, it's become a different process than it was when I created Fly. I had two things in mind when I created tracks for it: my personal goal in creating a sound and the sound of the artist i was working with on any particular track.
    When I started Dig Deep, I definitely concentrated on my personal goal more than the artists' sound, but I worked closely with artists that were so comfortable with my sound that they could still work perfectly with the beats that were made

JustPlainAntRVA 
    Now when I work on a project (3 of which are instrumentals), it's just a free flow of my creativity and I want to convey my thoughts without even having to say a word or have someone saying a word on my behalf

ohbliv 
    well, these new beats and your latest release are very emotive.
    Spin and wanderlust are great examples

JustPlainAntRVA 
    yeah, in an age where everybody seems to be trying to make beats for the sake of doing so, i think emotion is a major things that's necessary for an artist to set him/herself apart from the rest

ohbliv 
    word, i think that's what is needed these days, and i also think that's why folks are digging your style.

ohbliv 
    Now listening to your sounds, i hear you definitely are getting your fingers dusty in them crates
    we've gone on many digging excursions so i know.

JustPlainAntRVA 
    hell yeah, i love records. i wish i had more. diggin is great b/c just when you think you've got so much shit that you cant even keep up w/ anymore, you havent even started yet

JustPlainAntRVA 
    there are soooo many different records out there that you can surprise yourself everytime you go to a record store

ohbliv 
    word, when you're looking for records, what attracts you to make the purchase?

JustPlainAntRVA 
    Names I'm either familiar with or have heard from other people used to be a major player, but the cover can attract you most times.

JustPlainAntRVA 
    but just so i don't make a purchase that makes me say "wow! this is a really wack record", i preview it

ohbliv 
    yeah usually if the record cover is bugged, it may have some ill shit on it, but sometimes it's the wackest covers that'll have the dopest loop too. Its just luck of the draw i guess.
    Yeah previewing records is where its at
    Big up Plan 9 and deep groove for having TTables son!

ohbliv 
    so what are your top 5 records to play on a sunday afternoon

JustPlainAntRVA 
    grover washington jr - paradise, marvin gaye - let's get it on (which is good for pretty much any time for me), bob james 2, joe sample - rainbow seeker, bobbi humphrey - satin doll

ohbliv 
    ah that joe sample is that chill shit

    As a sample based producer, how do you feel about the whole sampled vs. instruments argument?

JustPlainAntRVA 
    i personally would love to use solely instruments, but i think that there has to be respect for both
    i think that samples give younger audiences a respect for the music before their time
    like i played "san jose sunset" by deodato for my cousin and he was like "paris tokyo! this is dope tho!"

ohbliv 
    i feel that there is room enough for all sounds, and music is music, whether its plucked on a string, or chopped and looped.  I honestly think its a lot of ego

JustPlainAntRVA 
    oh it definitely is. a lot of artists have this pretentiousness about em

ohbliv 
    and now with the whole hardware vs. software shit, like come on

JustPlainAntRVA
    like "your stuff is aiiiiiiiight, but I use live instruments."
    don't tell me how to do what I do, I'm makin it work and people appreciate it
    you do you and let me do me

ohbliv 
    haha say word!
    music is a mission, not a competition

JustPlainAntRVA 
    couldnta said it better

ohbliv 
    but yeah, back to the here and now, you've got JustPlainSounds going, whats that all about?

JustPlainAntRVA 
    Just Plain Sounds started as an idea i had to unite all the artists and styles around me. I neer thought it would come to fruition as what it has become in the past 6 months.

ohbliv 
    word, things are moving quite nicely for JPS
    and you've got a new release am i correct?

JustPlainAntRVA 
    the name is something that may seem like I want myself to be the center of it, but it's not. it was just an idea and i had and it's just plain sounds. we're not trying to be what others want us to be. take us for what we are
    yes i do. Songs About Something…
click pic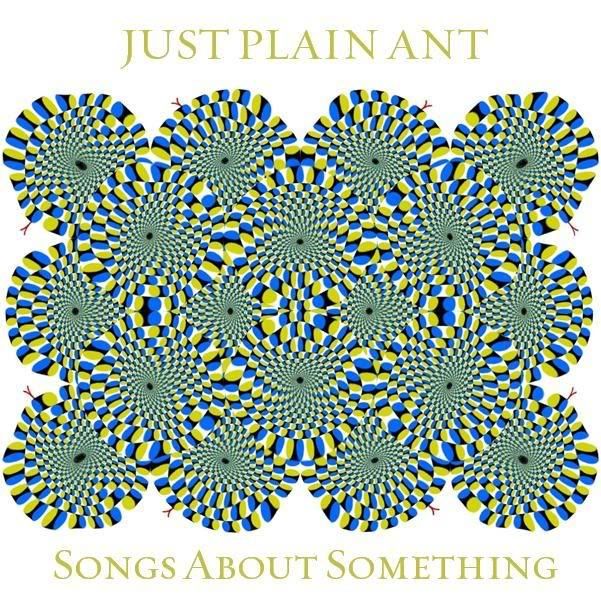 JustPlainAntRVA 
    it's the first downtempo release i've done. it's an expression of my ups and downs. ive heard it called somewhat emo like that's bad or something. emo's not just sadness like lots of people wanna say, it's EMOtions and this was a very emotional album.
    i planned on releasing it in 3-4 parts, but i was just sittin here and was like "to hell with sittin' on this or pushin it back indefinitely in favor of other projects, i want people to hear this and feel what i feel"
    and i didnt make it for just me. i hope people can hear it and feel the emotion

ohbliv 
    word well listening to the advance, heads ain't ready, i hope they are but they ain't, and that's a compliment.

JustPlainAntRVA 
    thanx my dude. a lot more people were ready for Dig Deep than i thought would be, so we could be wrong when we say we feel they're not ready

ohbliv 
    true indeed, imma bout to wrap this up, i got a smoke break scheduled, but is there any last words from the man himself?

JustPlainAntRVA 
    im gonna stay busy. ive got a rawer, more upbeat instrumental set i'm preparing. don't know the title yet, but it should be out within the next few months. Production for Joey Ripps' debut and Braintrust's sophomore LP, then The Loudness War, my 3rd proper album and 2nd on blocSonic (shout out to Michael Gregoire) coming in April. I know you're the interviewer here, but I know the people can't wait for your album. Can't wait to work more on that!

ohbliv 
    well i can't wait til they hear what we got in store.  Thanks again for taking the time to bullshit with me for a few, check out the homies myspace for more sounds and big ups to the whole JPS fam and all Rva artists. peace.